A while ago I wrote a post titled Don't Puke On My Blog, Bro all about the tendency of some bloggers to engage in what I called Blog Puke.
Basically, Blog Puking is when someone reads a post (or multiple posts) they like and instead of letting it digest and personalizing it, they simply vomit it back onto the Internet in a different order.
No unique spin, no personal touch for a desired audience.
As the conversation continued in the comments, I noticed a lot of people agreeing but at the same time saying it's hard to take the time to let things digest when we are always bombarded with new information.
So, I wanted to follow up that post with a single idea that I think will help and teach you how to tell a story or write a post that no one can steal.
Tell Your Stories
For about four years of my life, I spent most nights in dingy, smoke-filled bars. During that time I would also gather with groups of people and share personal stories. I did this all over the South.
I wasn't a member of AA or anything, I was a stand-up comedian. Seriously, here's a picture of me and Greg Giraldo after a show in Nashville:
I don't tell you that to brag or get off-topic, I tell you that because I want to share something I learned during my time in that world.
Most of the best comedians, the ones that stick around the longest, don't merely tell jokes. They don't structure things in the normal "Set-Up -> Gag -> Punchline -> Callback" formula. They tell stories; personal stories. That's not to say all successful comedians stray from the standard form, but most of the top-respected one do.
Once you publicly tell a story that happened to you and associate that with your personality, no one can take it and use it as theirs because it will be associated with you to your audience.
I could never come on here and tell you a story about feeding my children chocolate cake for breakfast without Bill Cosby fans calling me a thief. I could never talk about my "unique feeling" towards KFC Famous Bowls without Patton Oswalt calling me a hack. Those bits are forever associated with the storyteller because of their unique spin on the issue. That's part of the whole idea behind my push for the growth of your Digital Personality.
I want you to create not only a blog presence online, but a recognized personality. Make it so people associate your stories with you, not just your blog.
A great example of this is Scott Stratten and his UnMarketing initiative. Scott relays personal stories and situations beautifully and through that creates relationships with people that now defend and recommend him to others and because of this, he has grown so far outside of his blog and writings.
You want to know how to tell a story no one else can steal? Just watch how Scott does it: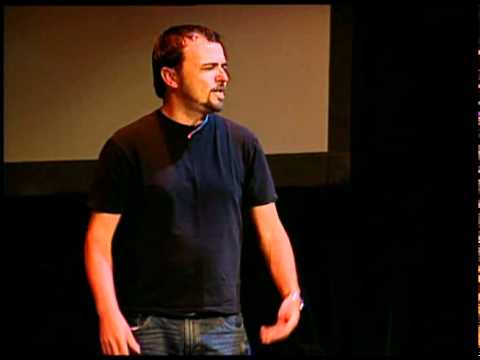 Tell those stories.
Thoughts?